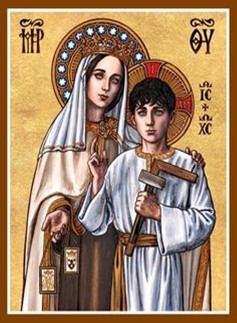 74th Annual Outdoor Novena to Our Lady of Mount Carmel
Saturday July 9th — Sunday July 17 th 2022
Each Evening in the Chapel
Marian Prelude: 6:45 p.m.
Benediction: 7:20 p.m.
Each Evening on the Grounds
Rosary at 7:35 p.m.
Mass at 8:00 p.m.
Due to Covid 19 restrictions, we are not able to move the Mass inside the chapel in case of inclement weather. Please bring umbrellas or other rain protection as needed.
This year our homilists will speak on the Fruits of the Holy Spirit and how Our Blessed Mother lived them. As the Angel Gabriel made known at the Annunciation, we know that Mary was truly "full of grace."
We recall that the Fruits of the Holy Spirit are love, joy, peace, patience, kindness, generosity, faithfullness, gentleness and self-control. Mary is filled with love, not only for her Son, but for all of us as her children. She radiates all the fruits in their perfection to all who fly to her for refuge or seek her intercession in prayer.
During this novena let us run to Our Lady that she may teach us how to live in complete union with the Holy Spirit. May we, through her intercession, practice the Fruits of the Holy Spirit, firstly, toward ourselves and, having been healed in our interior, and secondly, spread love, joy, peace, and every virtue to the world.
---
Our Speakers during this Novena will be 
Father Mark Madden – Sat. July 9
Father Andrew Williams – Sunday, July 10
Father Christopher Smith – Monday, July 11
Father Timothy Elliot – Tuesday, July 12
Father Edward Ruane, O. P. – Wednesday, July 13
Monsignor James Ramacciotti- Thursday, July 14
Archbishop Mitchell Rozanski – Friday, July 15
Father Ryan Truss – Saturday, July 16
Father Donald Morris – Sunday, July 17
---
O most Beautiful Flower of Mount Carmel, Fruitful Vine, Splendor of Heaven, Blessed Mother of the Son of God, Immaculate Virgin, assist me in this my necessity. O, Star of the Seas, help me and show me herein you are my Mother. O Holy Mary, Mother of God, Queen of Heaven and Earth, I humbly beseech you from the bottom of my heart to succor me in this my necessity. There are none that can withstand your power.     O, show me herein you are my Mother. O Mary, conceived without sin, pray for us who have recourse to you. Sweet Mother, I place this cause in your hands.
V. Our Lady of Mount Carmel,     R. Pray for us.
---
---